Jocelyn Schmidt, Executive Vice President, Associate Publisher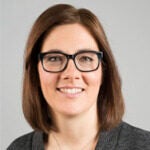 Jocelyn Schmidt is Executive Vice President, Associate Publisher Penguin Young Readers. She currently oversees the development of the PYR list, working with ten publishers to bring the perfect book to every reader at the perfect time.
Jocelyn joined PYR in 2005 as brand director, managing picture book and author brands as mini-businesses within PYR. Prior to her time at PYR, she was in the Random House adult mass merchandise sales division for 12 years, taking on many roles. She sold to airport retailers then moved to a liaison position, partnering with the publishers under the Random House umbrella and setting positioning and goals for their books in the mass channel. Along the way, she oversaw the sales team for Target, Walmart and the airports, and in her last role managed the mass merch field sales force. Jocelyn started her career in books as a Barnes and Noble bookseller, with training in both in-store operations and merchandising.