Viking Children's Books was founded in 1933 as a department of the prestigious Viking Press, known for publishing such authors as Sherwood Anderson, James Joyce, John Steinbeck, and Rebecca West. The first editor of Junior Books, as it was known, was May Massee, who soon established herself as a leader in children's books. Her first list included The Story About Ping, and under her stewardship such classics as Make Way for Ducklings, The Story of Ferdinand, The Twenty-one Balloons, Pippi Longstocking, and the Madeline books were published.
Ms. Massee was succeeded by Annis Duff, Velma V. Varner, George Nicholson, Linda Zuckerman, Regina Hayes, and Kenneth Wright—seven publishers in seventy-five years.
Throughout Viking's history, it has been known for innovation as well as for a dedication to quality that has created the rich backlist the house enjoys. Viking has published ten Newbery Medal winners and ten Caldecott Medal winners, more than any other publishing house, as well as twenty-seven Newbery Honor books, thirty-three Caldecott Honor books, and an American Book Award winner. Sixteen Viking books have been recognized as New York Times Best Illustrated Books. Two Viking books have received the Coretta Scott King Award, three have been Batcheldor Honor books, five have received the Christopher Medal, and two authors, S. E. Hinton and Richard Peck, have received the Margaret A. Edwards Award for bodies of work that included Viking titles. Among the ground-breaking titles published by Viking are The Outsiders (1969), still the best-selling young adult book ever published; The Snowy Day (1963), which brought multicultural books mainstream recognition; and The Stinky Cheese Man (1992), widely hailed for its innovative design. Two Viking titles, The Book of the Lion by Michael Cadnum (2000) and This Land Was Made for You and Me by Elizabeth Partridge (2002) were chosen as finalists for the National Book Award. In 2006, John Lennon: All I Want is the Truth by Elizabeth Partridge was named a Michael L. Prinz Honor Book.
In 1985, Viking won the Carey Thomas Award for creative publishing, the first children's list to receive this award. Viking has been nominated twice for the LMP Award for Best Children's list.
Viking publishes approximately sixty titles per year, ranging from books for very young children such as board and lift-the-flap books to sophisticated fiction and nonfiction for teenagers.
The current Viking list is known for such classic characters as Madeline, Corduroy, Pippi Longstocking, Roald Dahl's Matilda, Rosemary Wells's Max & Ruby, The Stinky Cheese Man,Llama Llama, Cam Jansen, and Froggy. Viking publishes the entire works of Ezra Jack Keats, including The Snowy Day, winner of the Caldecott Medal, and Robert McCloskey, author of Make Way for Ducklings, a Caldecott winner, and Homer Price. In addition, Viking is the publisher of several bestselling YA authors, including Laurie Halse Anderson and Sarah Dessen.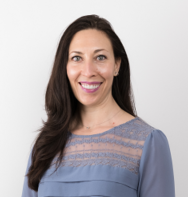 Tamar Brazis is the Associate Publisher of Viking Children's Books where she specializes in picture books and illustrated fiction. She has acquired and edited Call Us What We Carry and Change Sings by #1 New York Times bestselling author and presidential inaugural poet Amanda Gorman, Tomatoes for Neela by Padma Lakshmi and Juana Martinez-Neal, and titles by Mac Barnett, Greg Pizzoli, David Shannon, Kelly DiPucchio, Kelly Rowland, Amy Novesky, Adriana Trigiani, and Poppy Harlow.
Before joining Viking, Tamar was the Editorial Director at Abrams Books for Young Readers where she worked for nearly fifteen years, acquiring and editing the #1 New York Times bestselling I Am series by Susan Verde and Peter Reynolds, Princesses Wear Pants by Savannah Guthrie and Allison Oppenheim, and the Caldecott Honor- and Coretta Scott King Medal-winning Trombone Shorty by Troy Andrews and Bryan Collier. While children's books were the focus of her list at Abrams, she also acquired across categories and edited many photography collections for adults, mostly on music-related themes, as well as the first illustrated book for adults by New York Times bestselling and Caldecott-winning illustrator Brian Selznick. She graduated from Sarah Lawrence College and received an MFA in creative writing from the New School. She loves Italian film, stories of sunken treasure, and is "Baby, It's You," by the Shirelles.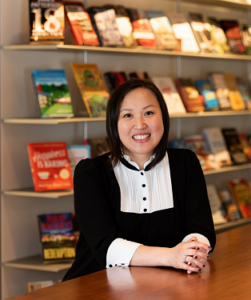 Jenny Bak is Executive Editor at Viking Children's, where she edits middle grade and young adult fiction, as well as the occasional picture book. She is drawn to stories at the intersection of commercial and literary, especially those with irresistible hooks, a swift pace, clever storytelling, unexpected twists, and authentic, diverse voices. In YA, she has a particular interest in fantasy, speculative fiction, thrillers, horror, and also contemporary romance that incorporates deeper themes, especially concerning issues of inclusivity and belonging. Science fiction and high fantasy aren't quite as high on her list! In middle-grade, she'd love to see heartstring-tugging friendship stories, exciting adventure chronicles, magical realism, animal fantasies, and thrilling mysteries to puzzle out. Currently, she edits books by Nnedi Okorafor, Derrick Barnes, Sarah Kuhn, Kevin Sands, Michael Rex, Robyn Schneider, Estelle Laure, Sangu Mandanna, and Gloria Chao, among others. Prior to Viking, she helped launch James Patterson's children's imprint as Editorial Director of JIMMY Patterson Books/Little, Brown where she acquired the #1 New York Times bestselling Stalking Jack the Ripper series, as well as the bestsellers Katt vs. Dogg, Ali Cross, How to Be a Supervillain, Swipe Right for Murder, Kingdom of the Wicked, and the Girls of Paper and Fire series.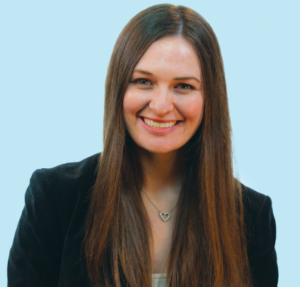 Dana Leydig is Executive Editor at Viking Children's Books. She began her publishing career as an intern for Puffin Books in 2008, and returned full-time in 2010 before moving to her current role at Viking in 2018. A graduate of the University of Florida (Go Gators!), she earned a degree in English with a minor in Jewish studies, and as a result, has read Daniel Deronda by George Eliot more times than she can count. Dana is open to both commercial middle grade and YA fiction with an emphasis on the latter, and is aiming to grow her graphic novel list for all age groups. Rom-com is her genre of choice, and she loves a good fairy tale retelling, but is also drawn to stories that infuse humor (and/or romance) into the macabre (think Tim Burton's The Corpse Bride). Her priority is to support and celebrate creators of marginalized communities, and bring their stories into the spotlight. She is the editor of the New York Times, Wall Street Journal, and USA Today bestselling The Last Kids on Earth series by Max Brallier and Douglas Holgate, Right Where I Left You by critically acclaimed author Julian Winters, and beloved YA author couple Emily Wibberley and Austin Siegemund-Broka (AKA #Wibbroka). Dana enjoys belting out show tunes (poorly), and is a sucker for period dramas and salacious gossip.
Sorry, we couldn't find any posts. Please try a different search.
Kelsey Murphy is an Editor at Viking. She joined Penguin Random House as an editor in 2018. She graduated from New York University with a degree in dramatic literature, film studies, and theater history, and a minor in creative writing. Kelsey edits picture books, middle grade, and young adult fiction and nonfiction, as well as select graphic novels.
She is particularly interested in middle grade and young adult fantasy, sci-fi, thrillers, mysteries, magical realism, contemporary realism, romance, historical and sports nonfiction, and more—with a blend of literary and commercial appeal. She's a particular fan of nonfiction picture book biographies and sophisticated, humorous picture books. Kelsey's always looking for projects by underrepresented creators, as well as projects featuring characters of color and/or LGBTQIA+ characters. She is the editor of Girls Save the World in This One by Ash Parsons, This Is How We Fly by Anna Meriano, and Trouble in the Stars by Sarah Prineas, as well as the Brotherband and Royal Ranger series by John Flanagan, and the Alex Rider series by Anthony Horowitz. When not reading or writing, Kelsey can sometimes be found performing long-form improv comedy at the Upright Citizens Brigade Theatre in New York, or watching every movie in the Criterion Collection. You can follow her on Twitter @kelseybmurphy.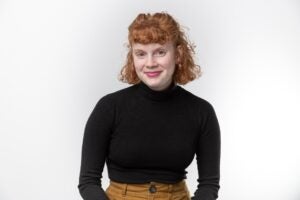 Maggie Rosenthal is an Editor at Viking, which she joined in 2014 with a certificate from the Columbia Publishing Course. After graduating as a Phi Beta Kappa from Kenyon College with a degree in Anthropology and a minor in English, she moved back to her hometown of New York City. She works on books for kids of all ages, from board books through YA, as well as graphic novels, with an emphasis on middle grade and YA. While she considers herself genre agnostic, books that provide fresh angles into familiar stories, explore family relationships to cultural traditions, center LGBTQ+ romance, or are tinged with horror are her kryptonite. She's always looking for projects by marginalized creators across all genres and for all reading levels. When she's not editing, you can find her baking bread and listening to podcasts—or organizing her oversized collection of clogs.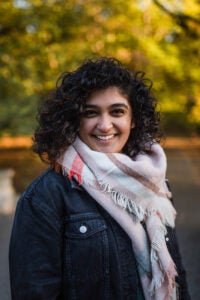 Aneeka Kalia is an Associate Editor at Viking Children's Books, where she primarily focuses on picture books and graphic novels for all ages. Aneeka also acquires middle grade and YA fiction, as well as select narrative nonfiction. Aneeka has worked with creators like Nidhi Chanani, Anoosha Syed, and Bianca Xunise. She looks for contemporary/realistic, humorous, character-driven stories across all ages and formats. Aneeka is a native New Englander, graduate of Connecticut College, Tennis and Soccer player, traveler, aspiring yogi, and amateur chef.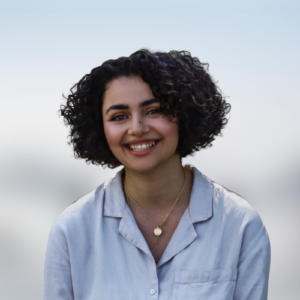 Meriam Metoui is an Assistant Editor who joined Viking Children's Books in 2019 after several years in School & Library marketing (PYR) and adult editorial (Hachette). After graduating from the University of Michigan, she moved to New York and received a master's degree in English literature from Hunter College. She considers herself a serial hobbyist and loves writing, photography, painting, learning ASL, longboarding, too many TV shows to list, and playing the guitar badly, to name a few. Originally from Tunisia, Meriam is looking BIPOC and queer voices in every area of kidlit. She especially loves lyrical or funny picture books, grim and adventurous MG, and a wide variety of YA too difficult to narrow down but know that she can't resist dark, whimsical, emotional writing and has always had a soft spot for magical realism and the slightly speculative.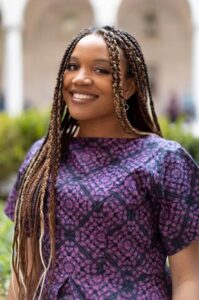 AZ Hackett is an Editorial Assistant at Viking Children's Books, assisting Tamar Brazis and Jenny Bak. She began her publishing career as an editorial intern at Candlewick Press and a We Need Diverse Books grantee. In December of 2021, AZ graduated from Emerson College with a Bachelor of Fine Arts in Creative Writing, with a concentration in Fiction and a minor in African-American & Africana Studies. After graduating she began working at Viking and is pursuing her Master of Fine Arts in Creative Writing at The New School. AZ enjoys books from all genres, but Young Adult fiction — especially dystopia, fantasy, and science fiction — has a special place in her heart. AZ has been a storyteller for as long as she can remember, and as she's grown older she's discovered that her passion lies in the intersection between writing, diversity in literature, and social justice. Even before recent years, it was painfully clear to her how great the need for diverse voices in the literary world is, especially in Children's publishing.