Razorbill, an imprint of Penguin Random House, is committed to taking risks and exploring new ways to tell stories.
Razorbill is home to a broad-ranging young adult hardcover fiction list that includes the New York Times bestseller They'll Never Catch Us by Jessica Goodman, swoony rom coms like Cameron Lund's Heartbreakers and Fakers, and supernatural thrillers like Dark and Shallow Lies by Ginny Myers Sain. Razorbill's popular series titles include the New York Times bestselling An Ember in the Ashes series, an epic high fantasy by Sabaa Tahir; the Falling Kingdoms series by New York Times bestselling author Morgan Rhodes; and Richelle Mead's #1 internationally bestselling Vampire Academy, Bloodlines, and The Glittering Court series.
Razorbill is excited to publish upcoming titles like New York Times bestselling author J.C. Cervantes' charming YA debut Flirting with Fate and debut author Emily J. Taylor's darkly enchanting YA fantasy Hotel Magnifique. We also are welcoming Sabaa Tahir to the contemporary YA space with an unforgettable and heart-wrenching YA entitled All My Rage.
Razorbill publishes nonfiction as well, including the young readers edition of the instant New York Times bestselling One Life by Megan Rapinoe. Also on the Razorbill list are picture books and graphic novels like There's A Rock Concert in My Bedroom by Kevin and Danielle Jonas; viral YouTube sensation Tiny Chef Productions' The Tiny Chef and da mishing weshipee blook and its sequel, The Tiny Chef and da nighttime bladventure, by creators Rachel Larsen, Adam Reid, and Ozlem Akturk; and a heartwarming new graphic novel series entitled PAWS, written and illustrated by Nathan Fairbairn and Michele Assarasakorn.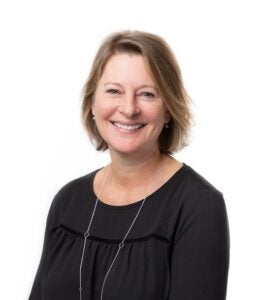 Jen joined Penguin Young Readers in 2018, and currently oversees G. P. Putnam's Sons, Razorbill Books, and Dial Books for Young Readers. Her select list includes authors David Yoon, Deb Caletti, Lisi Harrison, Sara Shepard, and actors Max Greenfield and Bobby Moynihan. She was previously Editorial Director at HarperCollins where she oversaw or edited the publications of many authors including Victoria Aveyard, Katharine McGee, Robin Benway, Sara Shepard, Misa Sugiura, Claudia Gray, and Jodi Lynn Anderson.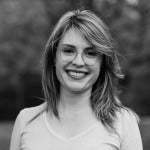 Casey McIntyre joined Razorbill as associate publisher in 2014. Prior to coming to Razorbill, McIntyre was the publicity manager at HarperCollins Children's Books. Throughout her career she has spearheaded the publicity campaigns of numerous award-winning, New York Times-bestselling titles, including Richelle Mead's Vampire Academy series, Morgan Rhodes' Falling Kingdoms series, Derek Blasberg's Classy, Jenny Slate & Dean Fleisher-Camp's Marcel The Shell With Shoes On, Veronica Roth's Divergent series, Terry Pratchett's Dodger, and Katherine Applegate's The One and Only Ivan.
Rūta Rimas is an executive editor, acquiring and editing middle grade and young adult, fiction and non, and graphic novels. At Penguin Random House, she has the honor and privilege of working with the most talented authors and illustrators in the industry. Her tastes are quirky and sharp, boundary-pushing, with a dash of darkness and a whole lot of heart.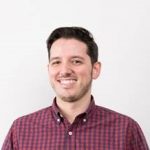 Chris Hernandez joined Razorbill as a senior editor in April 2019, acquiring picture books, middle grade, young adult, and graphic novels. Before coming to Penguin Random House, he was an editor at HarperCollins, where he had the pleasure of working with such stellar creators as Newbery Medalist Katherine Applegate; National Book Award-winner Thanhhà Lai; New York Times bestsellers Pittacus Lore, Lisa McMann, and Tahereh Mafi; SCBWI Golden Kite honoree Cori Doerrfeld; SCBWI Crystal Kite winner Tara Lazar; and critically-acclaimed author Jaye Robin Brown. Chris enjoys stories with heart, multi-layered humor, well-crafted mystery, thrilling adventure, a witty voice, accessible science fiction or fantasy, and a unique twist on something familiar. When he's not editing children's books, Chris goes home to write them—whenever his dog and cats give him a moment of peace. Follow him on Twitter: @ChrisMakesBooks.
Christopher's Featured Titles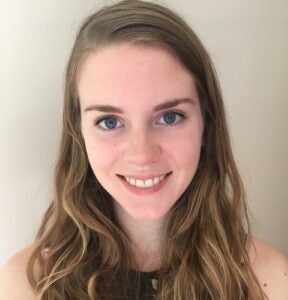 Gretchen Durning joined the Razorbill team in 2018, and she edits primarily young adult and middle grade fiction. She's worked on titles such as Hotel Magnifique by Emily J. Taylor, The Depths by Nicole Lesperance, and Threads That Bind by Kika Hatzopoulou. She has also assisted on a number of other projects, including A Sky Beyond the Storm by Sabaa Tahir and The Counselors by Jessica Goodman, among others. Gretchen is looking for middle grade and young adult titles, primarily in the fantasy or mystery/thriller genres. She's especially drawn to stories with a strong hook, an immersive voice, and an escapist plot. When not reading, you can probably find her planning a trip to somewhere new or watching a BBC nature documentary. Follow her on Twitter: @gretchendurning.
Gretchen's Featured Titles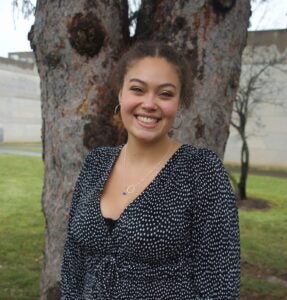 Simone Roberts-Payne (she/her) graduated from Wesleyan University with a Bachelors in African American Studies and joined the Razorbill team in 2021. Prior to working at Razorbill, she worked with Jacqueline Woodson, where she did historical research and proofreading for various writing projects. Simone is now looking to build a list that includes commercial and literary young adult fiction, picture books and the occasional middle grade novel. She is drawn to dynamic and diverse fiction, with complicated familial or romantic relationships, a hint of mystery, a touch heartbreaking and all things adorable.