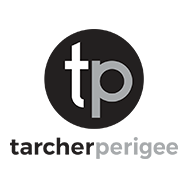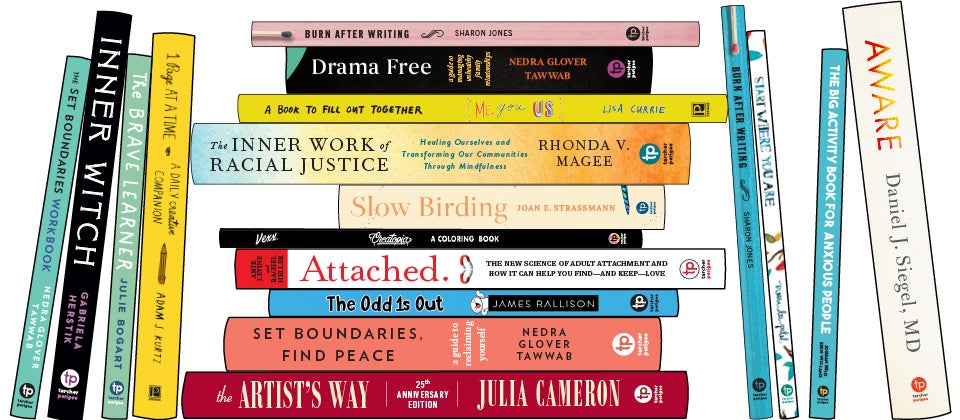 Our list has one mission: to empower readers to improve their lives. This is self-help for a new generation, encompassing everything from mental health and family/relationships to creativity, social justice, and more, along with journals for the inner explorer, and a few "odd ones" for the quirky teen in us all.
From beloved classics like The Artist's Way, Attached, and A Mind for Numbers to essential new favorites including Set Boundaries, Find Peace, Raising Critical Thinkers, and Anxiously Attached, our list is diverse, engaging, and full of empowering takeaway for living our best lives.
TarcherPerigee's authors range from renowned experts and powerful online voices to emerging artists –each with a unique perspective that speaks to the reader where they are.
TarcherPerigee can be found online at @TarcherPerigee on Instagram, Twitter and Facebook.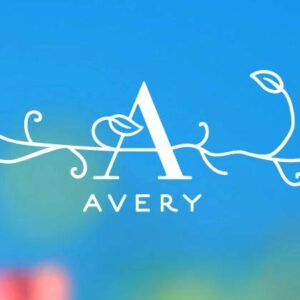 Megan Newman, Senior Vice President and Publisher of Avery and TarcherPerigee, joined Penguin in 2004 where her first acquisition was Prevent and Reverse Heart Disease by Caldwell Esselsyn, MD. The book was not only a New York Times bestseller, but laid the foundation for Avery's role as a leading publisher of cutting-edge books in the areas of health, science, psychology, education, and more. She also established Avery's cookbook program.
Avery's bestselling and award-winning authors include James Clear (Atomic Habits), Steve Silberman (Neurotribes), Dwayne Betts (A Question of Freedom), Brene Brown (Daring Greatly), The Dalai Lama and Archbishop Desmond Tutu (The Book of Joy), Angela Liddon (The Oh She Glows Cookbook), Adeena Sussman (Sababa), Joanne Lee Molinaro (The Korean Vegan Cookbook), Madeline Puckette (Wine Folly), Judson Brewer, MD (Unwinding Anxiety), and many more.
In 2018, she was also appointed the publisher of TarcherPerigee and helped spearhead the growth of the imprint. TarcherPerigee has long focused books in the areas of creativity, spirituality, personal growth and more. With books like The Artist's Way by Julia Cameron, Attached by Amir Levine, Set Boundaries, Find Peace by Nedra Glover Tawwab, Start Where You Are by Meera Lee Patel, and The Odd 1s Out and Burn After Writing franchises, TarcherPerigee has set the standard for books that inspire readers to rethink what's possible.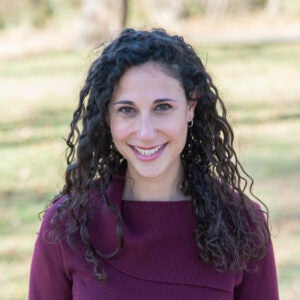 Lindsay Gordon is the Associate Publisher and Director of Marketing and Publicity for both Avery and TarcherPerigee. She has spent her career promoting and publicizing non-fiction authors and their books. As Associate Publisher Lindsay oversees all of the customized publicity and marketing campaigns aimed towards securing as much media as possible and effectively getting the books in front of consumers in new and innovative ways.
Lindsay has overseen and worked on the campaigns of numerous New York Times and national bestselling titles, including Atomic Habits by James Clear, The Book of Joy by His Holiness the Dalai Lama and Archbishop Desmond Tutu, The Myth of Normal by Dr. Gabor Maté, The Oh She Glows Cookbook by Angela Liddon, The XX Brain by Dr. Lisa Mosconi, I Beat the Odds by Michael Oher, Set Boundaries, Find Peace and Drama Free by Nedra Glover Tawwab, The Odd 1s Out by James Rallison and Unwinding Anxiety by Dr. Jud Brewer. Prior to joining Penguin Lindsay worked at the Doubleday Broadway Publishing Group at Random House, Inc.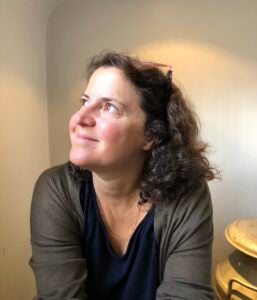 As Editor-in-Chief of the TarcherPerigee imprint, I'm lucky to be immersed in a rich, long-lived list that empowers readers to improve their lives and find their way, spanning the areas of mental health, creativity, self-reflection, social justice, and gift/inspiration.
I work with a wide range of authors – from credentialed experts to emerging illustrators – who bring fresh perspective and broader representation to these categories. My recent and bestselling authors include Nedra Glover Tawwab, Meera Lee Patel, Adam J. Kurtz, Scott Barry Kaufman, Whitney Goodman, Minaa B., Britt Frank, and many others.
To speak to an audience that's diverse in every way, the books on my list include guided journals like Burn After Writing, Start Where You Are, and Create Your Own Calm as well as more traditional guides like Set Boundaries, Find Peace, Drama Free, and Toxic Positivity – along with card decks and workbooks. Each one is published with hands-on attention with the goal of being both timely and timeless, with a robust launch as well as healthy backlist sales.
From my first acquisition here back in 2004 (The Cloudspotter's Guide by Gavin Pretor-Pinney—still in print!), I've focused on finding fresh new voices and ideas that speak to readers where they are.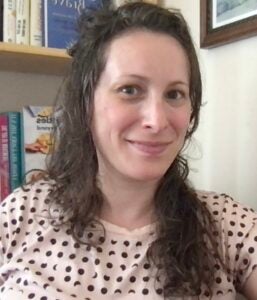 Executive Editor Nina Shield joined TarcherPerigee and Avery in 2017 with a focus on prescriptive non-fiction. Nina acquires inspiration, self-improvement, personal growth, creativity, spirituality, wellness, workbook/journals, mental health, functional medicine, parenting, and cookbooks and nutritional resources.
Authors she has worked with include James Clear (New York Times bestseller Atomic Habits), John McWhorter (New York Times bestseller Nine Nasty Words), Ali Maffucci, Megan McNamee and Judy Delaware (New York Times bestseller Feeding Littles and Beyond), Gabor Maté, MD (New York Times bestseller The Myth of Normal), Bishop Michael Curry (Love is the Way), Alexandra Caspero and Whitney English (The Plant-Based Baby and Toddler), Jordan Reid and Erin Williams (The Big Fat Activity Book for Pregnant People, The Big Activity Book for Anxious People), Bishop Mariann Edgar Budde (How We Learn to Be Brave), Gabriela Herstik (Inner Witch), Kelly McGonigal (The Joy of Movement), Talia Pollock (Party in Your Plants), Kristy Shen (Quit Like a Millionaire), Jason Dearen (Kill Shot), Emily Winter (One Day Smarter), Matt McCarthy, MD (Superbugs), and Joe Saul-Sehy and Emily Guy Birken (Stacked).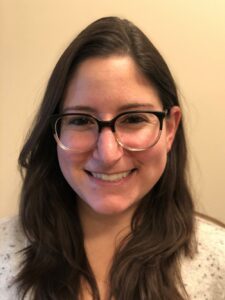 Lauren Appleton has been at TarcherPerigee since 2012, where she acquires a wide range of self-improvement titles, mainly for Millennials and Gen-Z.
She is particularly interested in the areas of inspiration/motivation, pop-psychology, creativity, social justice, female empowerment, and anything that will improve your life or simply make you smile. A large portion of her list includes illustrated gift books, journals, and other interactive activity books.
Authors she has worked with include James Rallison (New York Times bestselling author of The Odd 1s Out series), Vexx (Creatopia), Sergei Urban (The Dad Lab), Alice Boyes (The Anxiety Toolkit, The Healthy Mind Toolkit, and Stress-Free Productivity), Benjamin Lorr (The Secret Life of Groceries) and Erin Lowry (Broke Millennial series).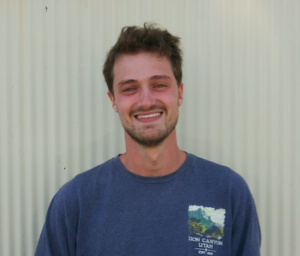 Jacob Surpin joined TarcherPerigee in the spring of 2023, where he focuses on personal transformation, popular science, outdoors/nature, performance, and creativity titles. He is especially drawn to books that cut against expectation in some way or that reveal or draw on something previously hidden – ideas, stories, insights, teachings, or practices that can impact our daily lives.
Jacob's first acquisitions at TarcherPerigee have included a travelogue of the world's most intricate animal civilizations by adventurer and animal advocate Ryan Huling and illustrator Oliver Uberti, an investigative deep dive into the plastic industry and Big Oil by environmental journalist Beth Gardiner, and a guide for driving positive interactions and communicating with connection, alignment, and fluidity by trial attorney and social media phenomenon Jefferson Fisher.
Prior to joining TarcherPerigee, Jacob was Senior Editor and Associate Publisher at Parallax Press.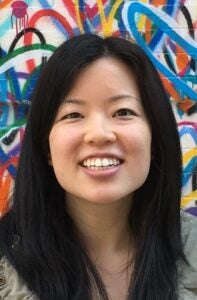 Joanna Ng joined TarcherPerigee in 2012, where she focuses on the categories of personal growth, self-help, and inspiration—including books on social justice issues, education, spirituality, pop science/psychology, mental health, parenting/relationships, and memoir.
She enjoys working with a diverse group of authors who have compelling stories and powerful insights to share—she is always learning something new from them. She edited A Mind for Numbers by Barbara Oakley, Eyes Wide Open by Isaac Lidsky, The Inner Work of Racial Justice by Rhonda Magee, Meditations with Cows by Shreve Stockton, The Brave Learner by Julie Bogart, Homecoming by Thema Bryant, A Place to Belong by Amber O'Neal Johnston, and The Essential Questions by Elizabeth Keating.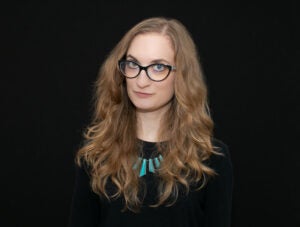 Lauren O'Neal joined TarcherPerigee in early 2023 and is looking to acquire a range of books in the practical nonfiction space. She is particularly interested in books about mental health and psychology, neurodiversity (ADHD and autism), spirituality and religion, nature, and language, as well as workbooks and guided journals.
Prior to working at TarcherPerigee, Lauren was an editor at SoHo Publishing and at Callisto Media, where she worked on a wide variety of projects, from Bible studies to cookbooks and everything in between. She has also been on the editorial staff at literary websites like Midnight Breakfast, the Rumpus, and Catapult. Originally from California, she has a BA in English from Stanford University and an MFA in creative writing from San Francisco State University.